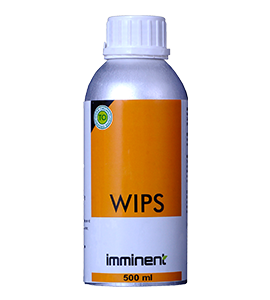 WIPS
Wips made up of 100 % pure herbal extracts & volatile oils which strongly act against powdery mildew.
HOW IT WORKS:
Wipes act against the powdery mildew by creating nutrition blocks through which fungus doesn't have nutrition to grow & unable to produce next generation. Spores are not viable to germinate results in supressing the life cycle of powdery.
USES:
Wipes use in preventive application at the critical stages of crops. It can be used on a wide variety of plants, vegetables and even trees. It's a contact mode of action, so uniform coverage is important while using the Wips. For better efficacy use "Stock" as a penetrator. Do not apply with other chemicals & spray water pH should normal at the time of spray.
Recommendation : Powdery Mildew
DOSE :  1 ml / lit