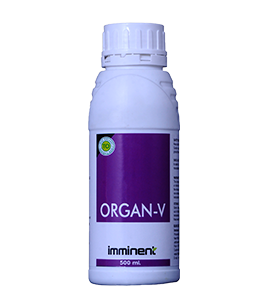 Organ-V
OrganV is herbal base insecticide use through soil against sucking complex above soil & below soil against nematode, wilt & snails.
How it Work:
OrganV is apply through soil by drenching immediately after transplanting & by drip application rest of life cycle of crop. OrganV apply along with "Anno" is mandatory, because "Anno" act as a up taker for OrganV which help to absorb maximum quantity in to the plant system. After entering in to plant system through root it converts the cell sap flavour & aroma in to lacking flavour, which help to repeal the sucking insect from main crop. Sucking pest unable to suck the cell sap as well as not able to damage tender plant parts like flower, shoots, tender & mature fruits. Sucking pests are pull out in search of food by their hidden places. Although insects are visible on crop, but don't worry they are not active to damage the crop.
After use of OrganV by soil, our spray application with regular interval is mandatory for better control. After repelling sucking pests, it may reduce the risk of virus infection & prolong the life of main crop.
Uses:
Use OrganV from immediate after transplanting through two successive drenching with interval of 4-5 days & after that with 15 days interval through drip irrigation till the end of life cycle of crop. OrganV along with Anno is mandatory for better efficacy.
Recommendation– Sucking pest, Snail, Wilt & Nematodes.
Dose – Drenching- 1 ml/lit
Drip – 500 ml/ acre