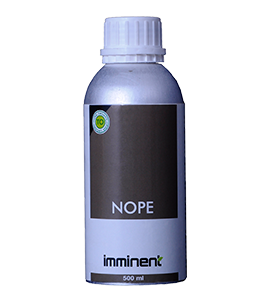 Nope
Nope is made up of various mixtures from essentials oils, botanical extracts, medicinal herbs & available proteins.
HOW IT WORKS:
Nope is best as a preventive for virus. It works to build immune system of plants. Nope inhibits growth of bacteria & Fungus which cause virus infection in the plants. It distracts the intercellular dissemination of virus in plants & build the building bock for virus infection. Nope is proven viricide in the market which is in natural form. Natural form is ready to available stage & easily accepted by the plants.
USES:
Use nope in preventive, if possible, from initial life cycle of plant for better results. Nope can be used on a wide variety of plants & vegetables. Nope is contact action so proper coverage in new shoots & old leaves are important, for that we recommended penetrator "Stock" for better efficacy.
DIRECTION FOR USE:
Use as preventive.
Weekly once a spray is mandatory as preventive measure from plantation.
DOSE: 1 ml/ lit.