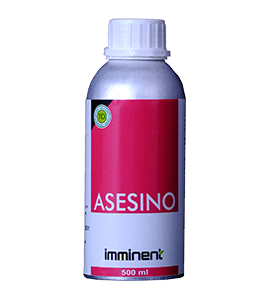 Asesino
Asesino is made up of blend of natural extracts.
HOW IT WORKS :
ASESINO works on sucking pests. It's manage sucking pests by dual mode of action. After contacting with insects, it locks the mouth parts results towards starvation & die. For some period, insects are visible but inactive to damage. Asesino produce fumes to suffocate the sucking pest with results in death. Asesino act to repeal the sucking pest by concentrate odour of botanical extracts.
USES :
Asesino contact in action, so uniform coverage is important. Avoid high temperature & heavy rainy time for better efficacy. Spray water quality also vital while using botanical extracts. Use proper application technology as per crop, stage of crop, pest, diseases.
Recommendation : Sucking Pest
DOSE :  1 ml / lit