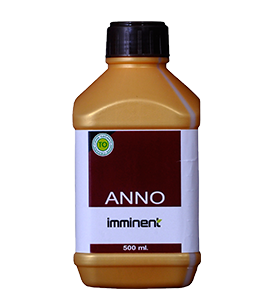 ANNO
Anno contains 70% pure protein hydrolysate from sea animals with natural extraction process.
HOW IT WORK:
Anno is a pure source of proteins to agricultural crops which help to utilize the available
proteins in their metabolic activity. Which plays important role in energy creation as well as in
stress management. Anno gives uniform root development in the plants. It also performs as a
supplementary role in flowering in the plants. It also helps in availability of nutrition from soil to
the plants. Anno help to have a strong plant stand, growth & immunity during the initial life
cycle of plant.
USES:
Give two successive drenching at the time of transplanting & in regular basis at 15 days
intervals in crop life cycle.
DOSE:
Drenching – 2 ml / lit
Spray- 2 ml/lit
Drip- 1 lit/ Acre
Precautions:
DIRECTION FOR USE:
Spray when plants are completely cooled down. One thorough application is usually enough,
but large infections may require additional applications.
IMPORTANT NOTE:
 All product is tasted in our lab and results may differ due to climate condition.
 pH of water may affect product efficacy.
 All products are "Contact Action", so require proper coverage to target.
 Use of penetrator "Stock" is mandatory while using our products.
 Do not mix with other chemicals, PGRS, Adjuvants, Water Soluble Fertilizers,
Micronutrients & other products.
 Avoid rainy situation up to 4-6 hours after spraying.
 We cannot take any guarantee due to above reasons.
PRECAUTION:
When spraying use gloves protect from direct contact to eyes and skin use mask for mouth
when spraying.
Avoid spraying in hot temperature.